Popular Music Streaming Service Gaana.com Hacked. CEO, Hacker Interact On Facebook
Indian online music streaming service, Gaana, has been hacked by a person ( Hacker ) who goes by the moniker Mak Man. His Facebook page shows that he is based in Lahore, Pakistan.
According to Satyan Gajwani's tweets, the CEO of Times Internet which owns Gaana.com, it has been confirmed that the website's database was hacked but claimed "most of" users' data had not been compromised.
Update- No data was ever stored, and the site is removed. Nonetheless, we are resetting all user details on @gaana pic.twitter.com/YanYnA0XXA

— Satyan Gajwani (@satyangajwani) May 28, 2015
And the hackers have removed the database from their site. #amankiasha pic.twitter.com/9ZPeS2CJ8a

— Satyan Gajwani (@satyangajwani) May 28, 2015
The hack seeems to be a SQL injection-based exploit of Gaana's systems, but the intention behind it is unknown. Over 12.5 million users are currently registered on Gaana.
The hacker, Mak Man, has also posted images of the service's admin panel on his Facebook page.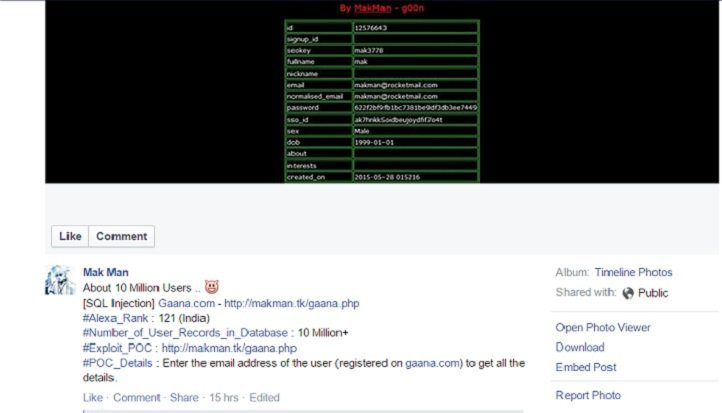 Source: Facebook
The worrying part of the story is that an online service from one of India's biggest internet companies (Times Internet) is vulnerable to such an attack by hacker .
Experts have reportedly said that with user details exposed, changing merely a password of your Gaana account may not serve the purpose. So it is better to deactivate your account until the issue is resolved.
Also Read :
Comments
comments